Meet Executive Chef Michael Cowan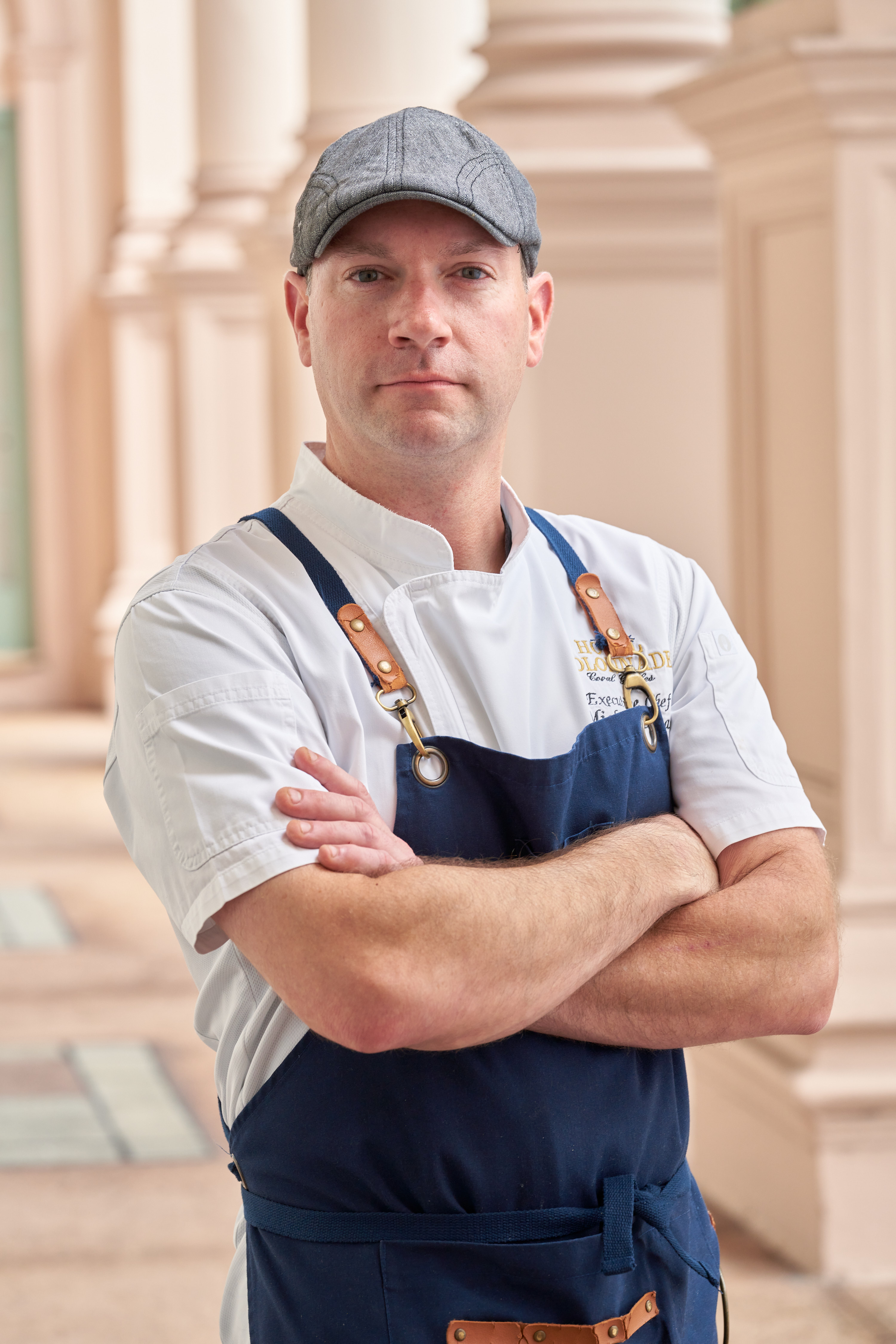 WE'RE USHERING IN A NEW CULINARY ERA WITH

EXECUTIVE CHEF MICHAEL COWAN AT THE HELM.

Michael comes to us after a 23-year career of cooking and leading kitchens at resorts and restaurants across the country—from San Francisco, California to St. John Virgin Islands to Hilton Head, South Carolina. We chatted with him about his vision for group culinary experiences at Hotel Colonnade, his penchant for global flavors, and scuba diving to the Vandenberg Wreck in Key West.
What sparked your love for cooking?
I started cooking with my Polish grandmother when I was a child. We'd make perogies, kielbasa, stuffed peppers, stuffed cabbage, and more.
Since then, who inspires the way you cook today?
I've been influenced and inspired by the chefs and culinarians that I have met over my career. Some have instilled work ethic. Some with flavors of the world. And, some have taught me how to be a good leader and friend.
"People eat with their eyes first, but flavor is what keeps them coming back."
What is your favorite thing to make?
I've been incredibly lucky to have worked with some of the best chefs in the world. From New Zealand, to South Africa, to Thailand, to Puerto Rico, to India, to Mexico, and more. I love combining all the flavors and techniques of my journey—they've chiseled the way I create cuisine.
Recently, we've been mingling Asian flavors with southern cooking techniques. Like in our sweet soy, sesame and ginger smoke brisket. The flavors span umami, sweet, sour, salty, and bitter.
You're known for crafting custom culinary experiences for meetings, events, and weddings. Tell us more.
Creating custom menus is one of the best parts of my work. Recently, we worked with a couple that wanted stations representing cuisines from around the world in lieu of the traditional sit-down dinner for their wedding. So we prepared a banana leaf whole roasted grouper, a whole roasted tomahawk ribeye with various sauces and side, a taco station with all the toppings, and a risotto station with the risotto served in a wheel of Parmigiano Reggiano. I once trained under a chef from India and received a ton of praise for making such authentic Indian food, including chicken tikka masala, aloo gobi, saag paneer, and vegetable korma.
What's the magic behind handling multiple events on the same night?
It's crucial to be organized and efficient. First off, we typically don't bring in any more than our core staff. I task my team with each person to be responsible for each party. When one portion is over, we come together to tackle whatever is next. At times you will see our team running from one side of the hotel to another, but we always get it done. It's always satisfying at the end of a successful night, even though it can be hectic.
"Expect to feel like you're the most important person in the hotel."
What is your food philosophy?
I always preach fresh ingredients and aggressively seasoning. For instance, our tuna tacos—in our new in-room dining and lobby bar menu—combine sesame-seared ahi tuna with a sweet and spicy mango, roasted poblano pepper and pickled red onion salsa, topped with micro cilantro.
Also, aesthetics are important, but flavor is even more so. People eat with their eyes first, but flavor is what keeps them coming back.
Any new food items on the menu we should look out for?
We recently added some new items to our wedding menus including a smoked burrata and grilled peach salad with toasted walnuts, watercress, and truffle pearls. Plus, you'll also see our smoked Asian brisket bao bun with pickled red onion and cotija cheese on our already-extensive list of hors d'oeuvres.
You've worked for some iconic resorts—from the Arizona Biltmore to the Westin Resort in the Virgin Islands. What lessons have you learned along the way?
The most valuable lesson I have learned over my career is that the people you take care of will take care of you. You never know what an employee or guest has been through when they arrive at the hotel. Missed flights, being in a new city, sick child, car won't start...Having empathy and showing care can have a considerable impact on someone's day.
What do you like most about the food scene in Miami?
It's been insanely fun learning and experiencing Cuban and Latin culture and food. Since so many of our guests also want to experience this cuisine, you'll likely start seeing even more of these flavors at our restaurant and catering.
What are your outside passions when you're not cooking?
I'm an avid golfer, so you may see me playing local courses here and there. I'm also a PADI certified SCUBA diver and recently dove the Vandenberg Wreck in Key West, an advanced deep dive.
What can meeting and event planners expect from you and your team at Hotel Colonnade?
Expect to feel like you're the most important person in the hotel. Even when multiple events are going on in the same building. My team is always in constant communication with our planners and each other so that every moment goes above and beyond planners' expectations.