10 ways to make her big day unforgettable
The year is almost here. When your little girl finally reaches the age of 15 and it's time to usher her into adulthood with a spectacular quinceañera celebration.
Sure, the concept of a quinceañera is traditional. But, maybe your daughter is anything but. For today's quince, there are no rules or standards. Your daughter's celebration can be just as unique as she is.
At the Hotel Colonnade, we've hosted hundreds of quinceañeras for young women and their families. We know what makes events stand out and be remembered for years to come.
Here are our event expert tips:
1. Go for an unconventional theme
Here's where your daughter takes the lead. The best—and most unique—themes are the ones that directly reflect the quinceañera celebrant's personality, interests, and passions. Does your daughter love the flapper style of the 1920s? Think about hosting a glamorous Roaring 20's party. Is she an avid reader? Consider a library-inspired soiree. Is she a fan of Harry Potter? Go with the colors and look of her favorite Hogwarts house. The possibilities are endless. The more unconventional, the better.
2. Make an entrance
Eschew the traditional limo when planning your daughter's grand arrival. There are many ways to make an entrance. Such as rolling in on a vintage car, an exotic sports car, a Vespa, or even a beach cruiser! The mode of transportation doesn't have to be extravagant to be special and significant. All that matters is that she arrives in style. Bonus points if you can match her ride with her theme.
3. Set the scene with an incredible venue
Look for more than just a pretty place. Your event venue should also have event experts who can make things happen, indoor and outdoor options, and an undeniable wow factor. It all matters when hosting an unforgettable and seamless quinceañera. At Hotel Colonnade, we've been hosting epic birthday celebrations, weddings, and other events for decades.
And, we offer some of the most gorgeous venues in Miami. You'll make your guests' jaws drop inside our iconic, marble-tiled 60-foot Rotunda. Or, celebrate with a sunset reception perched on our rooftop terrace.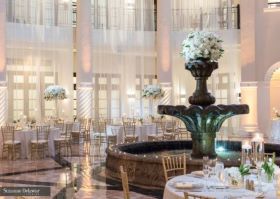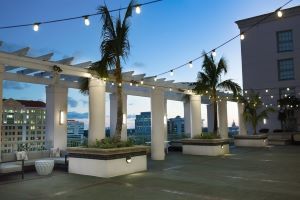 4. Pour creative mocktails
Her friends may be too young to drink, but they'll still want to raise a glass to toast to your daughter (and look sophisticated doing it). Ask your bartender to provide fun craft mocktails, such as spritzy mint lemonades or a fun-fetti cupcake martini. Almost any cocktail can be reimagined into a non-alcoholic version. You can also offer a drink station with refreshing aguas frescas.
5. Set up Instagram-worthy backdrops
Let's face it. Your daughter's friends will be posting to their social channels all night long. And, they'll be on constant lookout for the perfect picture op. So, set up photo booth backdrops, along with props to match your daughter's theme. For instance, if your daughter loves to travel, bring in a vintage VW bus, along with retro luggage for people to pose with.
A stunning setting is another perk of booking your daughter's quinceanera at Hotel Colonnade. With our Mediterranean revival-style architecture and art-filled interiors, it'll be hard to put the camera down.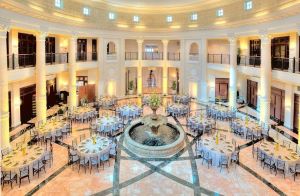 6. Gather adulting advice
Since your daughter's quinceañera ushers here into adulthood, now's the best time to dish out some life advice. Set up a video booth where older relatives and friends can offer the birthday girl their best adulting tip. Another alternative is to hire a videographer whose sole purpose is to interview guests and record their messages and advice for your daughter to watch later.
7. Make food fun
Delight your guests by serving up fun and playful treats throughout the night. Even better—work with your venue's chef to incorporate your daughter's favorite snacks and foods. Like, a bar of French pastries, fruit cup station, elote stand, dumpling bar, paleta cart, mac and cheese station, or build-your-own ice cream sandwiches. One of Executive Chef Michael Cowan's favorite tasks is to build a custom menu that tells your and your daughter's story—so let's bring out your daughter's favorite bites to keep everyone fueled all night long.
8. Hire a choreographer
One of the best moments of the night—when your daughter and her court perform a rehearsed dance number. Traditionally, courts dance the waltz. But, your daughter is different. Perhaps she prefers hip hop, country line dancing, or even salsa. Whatever she'd rather do, we recommend hiring a professional choreographer to help your daughter and her friends get every move and moment right. We can guarantee that once the music starts, all eyes will be on them.
9. Have her court volunteer for her favorite charity
In between dance practices and dress shopping, help your daughter and her court arrange a day to volunteer for her favorite charity. Finding the time to give back with her friends can be a great way to give back to her community. Does she love animals? Perhaps volunteer for an afternoon at an animal rescue. Does she care about feeding those less fortunate? Help at the local soup kitchen or community garden.


10. Turn your quinceanera into a family vacation
When you host your daughter's quinceanera at Hotel Colonnade and book an overnight stay, you get more than wonderful hospitality and a gorgeous ambiance. After an evening of dancing, mingling, and celebrating, you can slip away to your luxurious private room for a deep sleep. (Hosting extended family? We also offer the Miracle Mile Lofts with kitchenettes). The morning after, a world of amenities and Miami experiences await, like, sunbathing on the rooftop pool deck or having a farewell brunch with family members at Baires Grill.
Want more ideas on how to make your daughter's quince the party of the year? Email us at [email protected].